As of September, 2019, we are no longer selling puppies.
From the Archive -
We find that it is extremely important that our puppies are always whelped and raised in our home. Although we limit the number of litters raised, we find that the socialization, contact and surrounding stimulation encountered by the puppies being in our close environment is very important for their future development. Our puppies are also supervised and handled by our grandchildren.

It is most exciting that we have added an addition to our house which includes a special dog/puppy/mud room, located just across from our master bedroom. This is a ceramic tiled floor with a walk in shower and lots of room for our dogs, as well as for when we walk in from the farm with our muddy feet! The 'dog room', is extended from the master bedroom thus allowing close contact with the puppies as well as freedom for our dogs to travel between the two rooms. We find that puppies raised in the home environment become acquainted with sounds such as the dishwasher running, pots being banged, the vacuum cleaning running, as well as adapting to our sleep/wake cycle. This is important as a new pup makes the transition to his or her new home and learning to sleep through the night. Additionally, we use the Dr. Carmen Battaglia method of 'puppy stimulation' as an early stimulation program for the litter which also can be found on the Internet.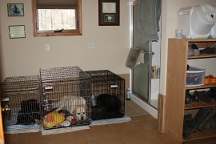 If you have any questions, please email us.


At left are pictures of some of our puppies. For more photos, please visit our photo album page.