Welcome to Duckback Labradors
We are a small kennel located on an 88 acre farm in the central North Carolina Piedmont area. We live in Randolph County, home of the N.C. Zoo, keeping a future Duckback puppy.
We were drawn to this breed many years ago, desiring to own an intelligent and versatile dog which was easily a faithful companion as well as a hunting companion. Duckback Labs was begun in 1976; having black and yellow dogs who are more of the 'English' type. We were blessed for 15 ½ years to raise and own CH. Duckback's Hi-Hope, CD, MH; the 6th Champion (breed ring) Master hunter Labrador in the history of our breed.
Our labs have served as Guide dogs for the blind, hunting companions, obedience titled dogs, other AKC performance events, therapy dogs, and breed Champions. However, most important, they have been loyal and faithful companions.
We have previously taught numerous puppy classes in Veterinarian clinics in Wake County. We also teach 'manners' and 'socialization' classes; taught by Anne and assisted by Neil. Presently Anne is an AKC Canine Good Citizen evaluator as well as a Therapy Dog International evaluator.
Anne previously worked as a Learning Disabilities Specialist and Educational Diagnostician. She wanted this to be an informative website where anyone visiting could learn more about our wonderful breed. Please be sure you go through the 'Tips' section on the drop-down menu, as well as other sections.
Neil and I are extremely grateful for the joy and love our Labs have brought to us through the years. They have healed our souls, made us laugh so hard and torn out our hearts when it was time for them to go over the Rainbow Bridge. We have also been blessed with the opportunity to share these wonderful bundles of joy with families and individuals who have loved their Labs with great passion.
Anne Evans


Duckback has been in many magazine publications. Visit the magazine's page to see previous articles.


Janis Henderson-Hunsucker has been designing web sites since 2000. Visit her page to find out more about website design and how she can help your business or market your kennel.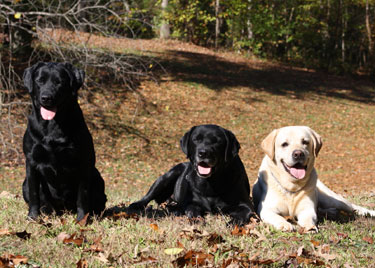 Our foundation sire, Am. Can. CH. Duckback's Black 'n Decker, CD, CDX, JH, TD (AKC Tracking title), propelled and encouraged us to prove that it was important for a beautiful Lab to have a wonderful temperament as well as the intelligence to be multi-purposed. Our lines go back to the Blaircourt lines in England as well as the Finchingfield lines. We do not breed often; only breeding 1 or 2 litters a year. Our pups are raised in our house which has a 'dog room' beside our Master bedroom. The puppies are given a temperament test at 8 weeks of age in order to 'match' a family with a particular puppy. This test can also be viewed on our website. We only breed when we want to continue our lines and keep a puppy for ourselves.


We no longer have puppies for sale and are instead focusing on therapy work. If you would like to know more about our therapy dog programs call Anne at, 336-879-1355 or e-mail  duckbacklabs@rtmc.net. 




<!Please see our new photos on the a href="farm.html"Down on the Farm page.>